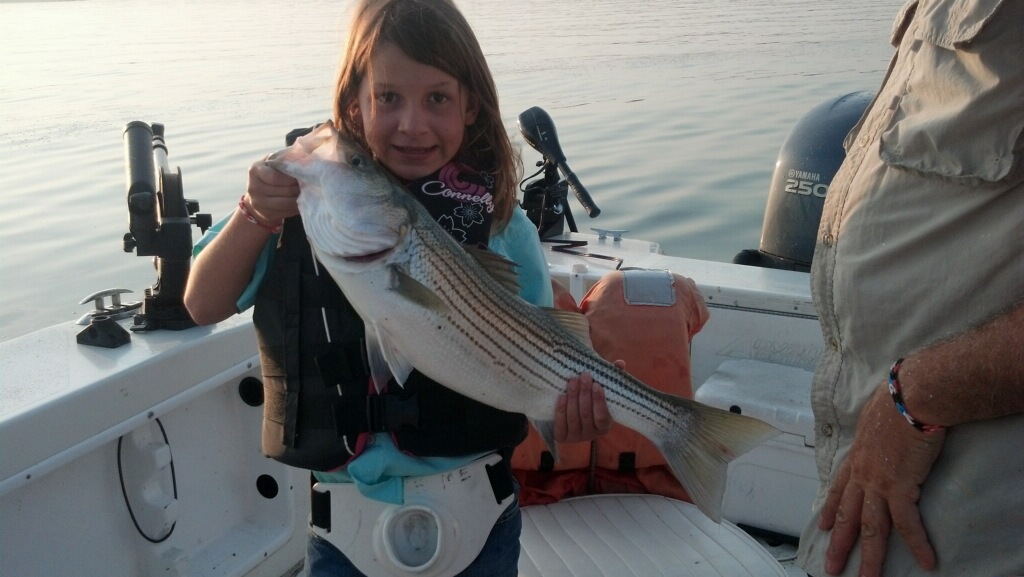 Rates
Lake Texoma Striper Trip
Our Rates are great! Come catch with the best guide on Lake Texoma winter, spring, summer, or fall!  We make lifetime memories one trip at a time!  We get booked up very fast, so make your reservation NOW!  Lake Texoma Striper action is fantastic, come get some soon!  Lake Texoma is the premier Striper Lake in the USA!  Let the best guide put you on a premier Trip of a lifetime!
1-2          Anglers          $ 350
3             Anglers           $ 400
4            Anglers            $ 500
5            Anglers            $ 600
6           Anglers             $ 700
Kids Under 10 Fish for $ 50  each after minimum is met.  One Kid Rate allowed for each paying adult.
We can accommodate groups of any size
Reservation Policy
A $100 per boat deposit is required to reserve a date. Dates can be reserved with a valid credit card. Full payment in the form of cash, check or credit card are accepted on the date of the trip .  A four percent fee will be added to all credit card payments.
Cancellation Policy
Cancellations due to bad weather on single boat trips are to be determined by the guide at the trip departure site on the date of the trip. In this case, no monies will be paid by client. Any deposits will be moved to another date or refunded. Cancellations made 5 days or more prior to trip date can be rescheduled and deposit will be applied to new trip date. Cancellations made less than 5 days prior can be rescheduled but deposit will be forfeited. NO SHOWS will be charged a maximum boat charge.
Please Note:   If you cancel a trip that means I have most likely turned down other clients requesting that date. Guiding is how I make my living, I cannot afford to be losing trips due to cancellations.